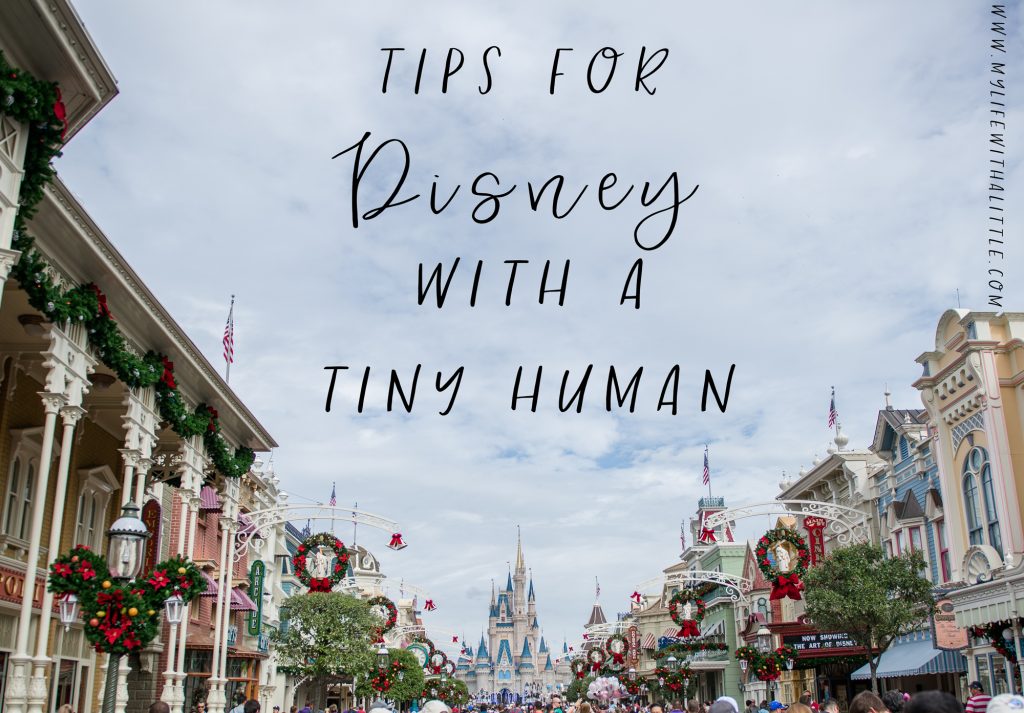 We decided last week to take Em to Disney for the first time and I can not tell you how happy it made my mama heart.
We have passes so we're able to go all year, when we want, but I wanted to make sure she was walking/knew something was up the first time we took her. Since we live so close, we were able to let her have her normal nap routine at home and headed out after lunch.
I wanted to meet Mickey, but I checked for Fast passes on Sunday MORNING, for Monday and the only time they had left was 8:40PM on Monday. Absurd. The wait time was also 75 minutes when we got there, so we decided to save Mickey until next time. Here's hoping mommy remembers to get the Fast pass a week early.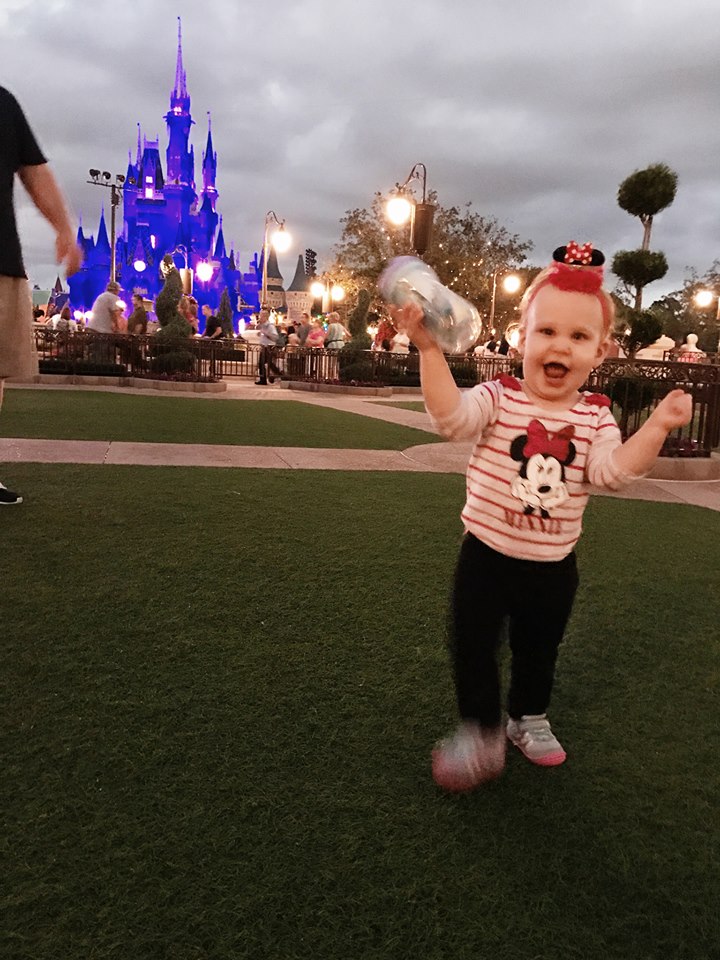 This is pure joy.
She loved all the Christmas decorations, another reason we waited to go. Christmas freak mom over here, and it was totally worth it. She also totally loved the parade. Who knows what she was talking about but she kept yelling in excitement at it. Honestly, my heart exploded.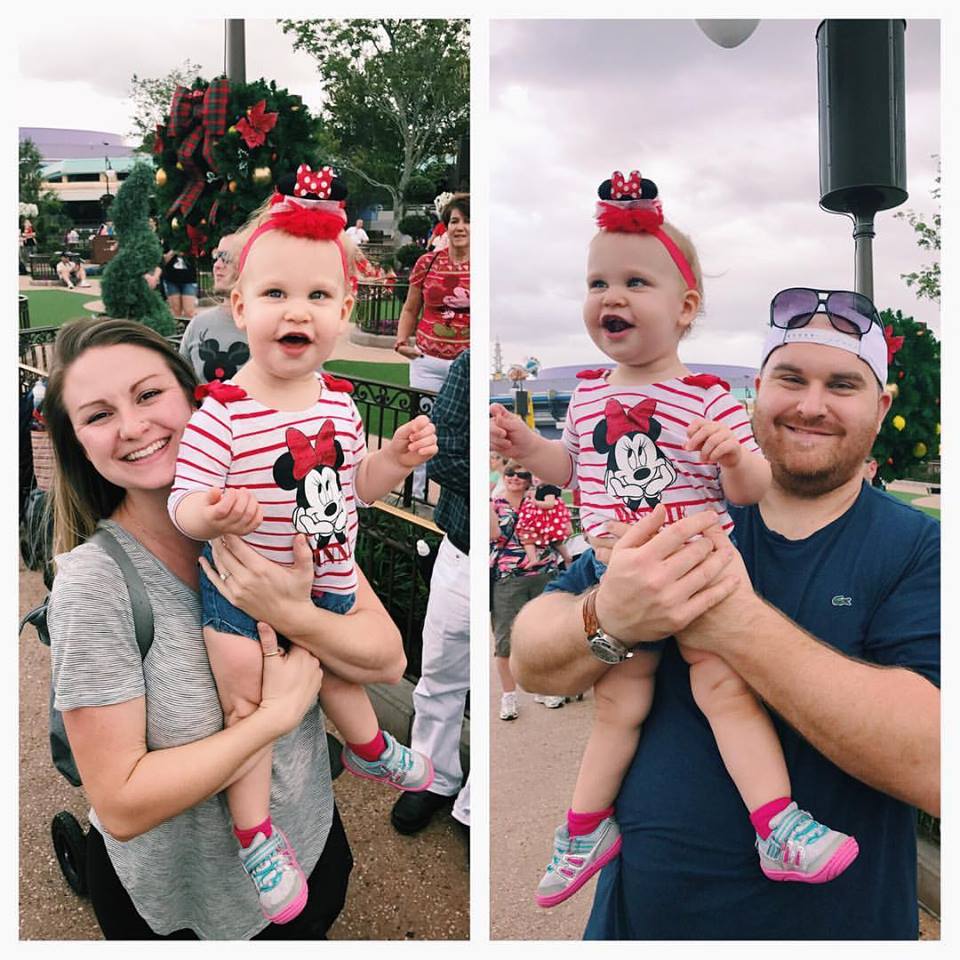 We were only at Disney for maybe five hours and that was enough for us. Em's teething so we had a couple moments, and since she's totally walking now that's all she wants to do, which means she wasn't a giant fan of being in the stroller.
Since I'm obviously an expert now on Disney with a tiny human, I figured I'd share some tips. Now these are not, ride this ride at this time kind of tips. These are more of your common sense type tips if you will. So here we go.
-Do not go to Disney with a tiny human.
"Wait, what."
The only reason we went was because we have passes and we live 25 minutes away. Which means, if things went south we could just leave, no harm no foul. If you're able to make a short trip, do the thing. If not, maybe plan for the future. I looked around at moms and families on the struggle bus with tiny humans and my heart broke. No one said you have to take them to Disney before their old enough to handle it, no one. Trying to work around nap schedules and feeding times sounds miserable to me. So don't. I promise you that Disney is going to be there in five years, and ten and twenty. Why not wait until they can remember (most) of it. I mean, lets not even get into a convo on how expensive a trip to Disney is. Spend the money when you can enjoy it all.
But if you do go to Disney with a tiny human:
-Don't do too much in one day. We rode two rides and watched one parade. That was enough, actually, that was all Em could handle. Over stimulation is a real thing, and I could tell by the end she was getting to her breaking point. Space things out.
-Head to the Dumbo/Minnie greeting place for some breathing room. Disney is packed. Every day, all day. But we found that the back little corner of the park seemed to be less crowded than the rest, and we were able to let Em get out and walk around without the fear of her getting lost. In fact, if we're being honest here, I think playing with the bushes and leaves there was her favorite part.
-Get Fast Passes. Even then you'll still wait 15-20 minutes but it's way better than an hour. How anyone can do that with a human under five boggles my mind, and I raise my glass to you.
-Remember that your tiny human isn't going to remember a single moment of this. So stop stressing about it not being perfect. For example. We haven't had rain here for a month and it poured the day we went. Lolz.
-Bring back ups to your back ups. This is something I kind of did. We had back up pants, but when Em played in a puddle (so cute) I did not have a back up of pants for her to wear when she sat in said puddle. Oops.
-Bring snacks, snacks and more snacks. Plan out your meals. We actually brought a dinner for Em because I wasn't sure how the food would go for her. In my opinion we're still a little ways away from a cheese burger and fries, so it was easy for me to bring a grilled cheese for her. Actually it was a deconstructed uncooked grilled cheese but she loved it. Plus, no stress at dinner time.
-Drink water, drink water drink water. And make sure your tiny gets some too!
-If you make the trip, do it during Christmas time. Everything is decorated and it's magical.
-Have fun and remember you're at THE happiest place on earth! I know that some families plan and plan these trips and do have little ones, which is so totally ok. Remember that things aren't going to go according to plan, it's going to be hot (seriously remember this) but you're with your family and you're making those life long memories. Even if some of them won't remember. So do all the things, meet all the characters, and make sure to see the fireworks. Those are worth the trip alone.