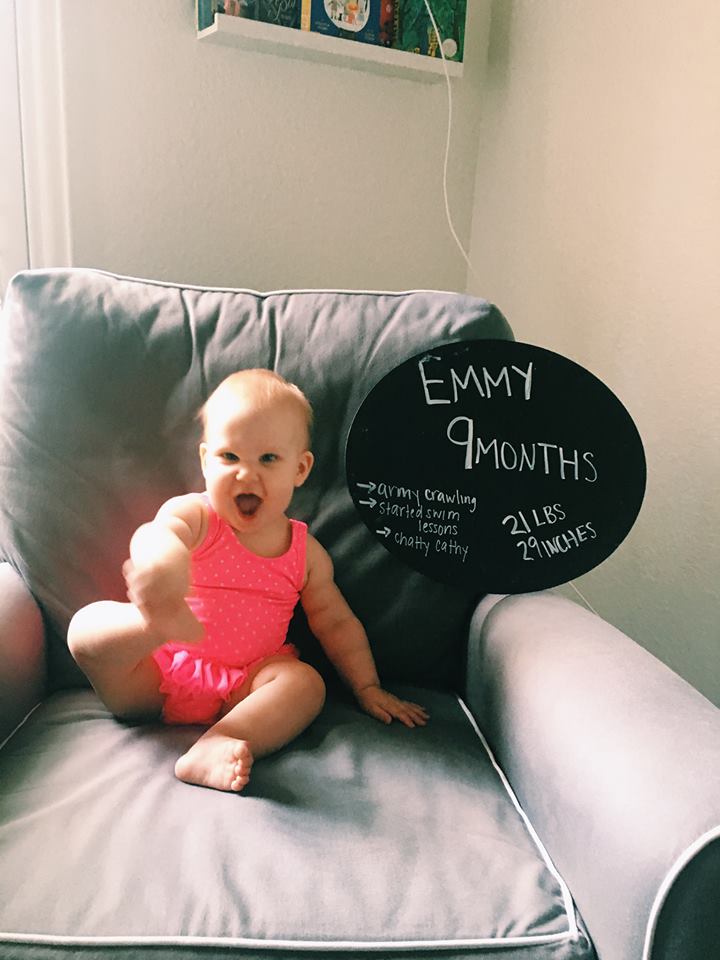 By far the hardest picture to get. Mommy tried it alone, and obviously had some trouble. Notice the finger prints at the top. But ya'll. I just can't with this kid.
A PINK TUTU BATHING SUIT?!
+Em is a pro Army crawler. I think she'd totally win one of those Iron man contest. Just the part where they crawl through the mud though. I've tried so hard to get those knees and arms up buuuuut, she's kinda lazy. It's so much fun to watch though. And she's really quick these days too.
+We started swim lessons! This was something I was super adamant about. The girl who comes is so sweet, even though Em screams through about half of it. Which I'm told is better than most. And it's not a scared yell, it's a "Hi, I'm annoyed" yell. She's learning how to float on her back and be comfortable in the water. Which she totally is.
+We're slowly moving away from baby food and onto actual food. Frozen veggies are amazing and so easy. They already come cut up, so boom. Lunch. We usually have oatmeal or her favorite, a waffle in the morning. She loves watermelon, and every couple of days will eat some blueberries. But the girl loves her veggies. No complaints here. Corn, green beans, carrots, squash, sweet potatoes, you name it she loves it.
+Em has four teeth. Two on the top and two on the bottom. The top ones are my favorite because they have a little gap in the middle. It's the cutest thing ever.
+This girl can talk. Every time she gets going Sonny and I can't stop laughing. I really think someone needs to invent something that translates baby talk so we can understand what they're saying. Someone at NASA, I'm looking at you. We still haven't said mama yet…and I'm still totally fine with it. I'm fine. Really, I'm fine.
+Eats her toes. Which is yes, both totally weird and hysterical all at the same time.