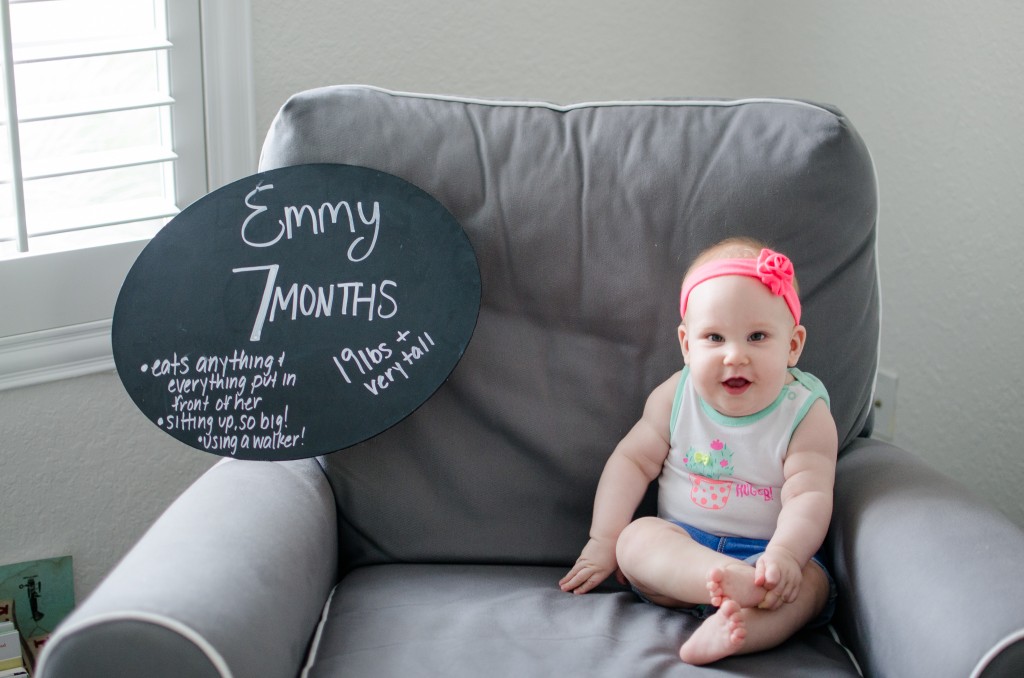 I can say without a doubt that this kid has more personality than most adults I meet.
She makes the funniest faces, which she's famous for now, and has a laugh that will melt your heart.
+Em is sitting up like a champ. She did this the weekend she turned seven months which was a big deal. It's been a milestone I've been waiting for. I just feel like she's so grown up now. Plus, she loves to sit and play which gives mommy five minutes to clean the kitchen. Wins all around.
+The top teeth are coming, or wherever they come in next, that's just what I assume. She chews on every thing you put in front of her. She'll grab it and it goes right into her mouth. Baby proofing here we come.
+Mickey Mouse Clubhouse is still her jam. We don't watch a lot of tv during the day, if any somedays, but this girl gets the biggest smile on her face when she hears the words, "Hey everybody! It's me, Mickey Mouse!" Oh, and that Hot Dog Dance.
+She's finally eating Puffs. Not just playing with them. It makes me laugh every time because it's truly like watching a monkey figure out how to eat. This is what you become a parent for, right? To laugh at your kid? It's the cutest thing to watch.
+Em found her feet. It's the best.
+Em went to her first baseball game! The Brevard Manatees! #feartheseacow She didn't get her late nap in so we didn't make it long, but from what I can tell, she enjoy America's favorite past time.
+She got her first pair of jean shorts. You're welcome.