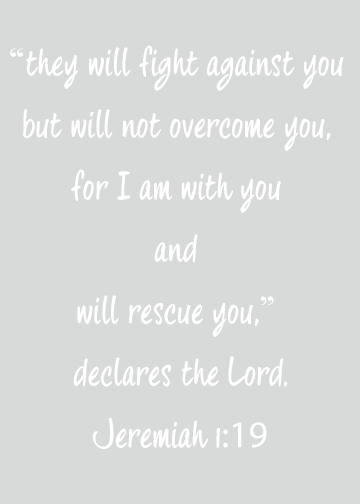 If there's one thing that I am absolutely sure of, it's that God equips us for the things He's called us to.
I was reading Jeremiah the other day and found myself thinking over and over again, "Yeah, bro. I get it".
God called Jeremiah to be a prophet, He knew long before Jeremiah was born that this was the call He had for his life. Scripture tells us that God was clear with this one.
"Before I formed you in the womb I knew you,
before you were born I set you apart;
I appointed you as a prophet to the nations." -Jeremiah 1:5
Jeremiah's response was the same one I have, "God you've got to be kidding. Not me." (paraphrased by me)
His response is just so…human.
I can't really imagine, though, having a conversation with God, actually hearing Him speak to me and saying, "Yeah, but I can't." I like to think I'd be smart enough to just nod along, because hello. It's God.
But Jeremiah is me. Maybe he's you.
God calls him, tells him exactly what He wants him to do with his life and still he answers, "But maybe something different".
He tells God he's too young, and doesn't know how to speak to people like that. He was afraid to speak these words God was giving him because they were unpopular at the time, no one wanted to hear them.
I often give God some excuses to.
I'm just a mom.
I don't have time.
I need more sleep.
No one is listening/reading.
Little old me can't make that big of a dent.
God equipped Jeremiah. Verse 17 in chapter one almost makes me laugh.
God says, "Get yourself ready! Stand up and say to them whatever I command you." (NIV)
"But you-up on your feet and get dressed for work! Stand up and say your piece. Say exactly what I tell you to say." (MSG)
Just like Jeremiah, God has called us into things in our lives. Maybe it's preaching, or writing, or being a mother, or starting a non-profit, or being a youth leader. Whatever it is, God has equipped us.
We just have to get up, get dressed and start the work.
It's tough, I know. But we have to let the presence of God in our lives, overcome any excuse we have or any fear we're holding on to. Because friend, when we let God use us, glory filled Kingdom come things start to happen.
I've recently said yes to something big. And scary.
But my prayer over and over again has just been for God to equip me. To use me for His glory. That this big exciting thing I've said yes to would have His name all over it, and not mine.
Who knows how it's all going to turn out, but what I do know,
is that God is equipping me.