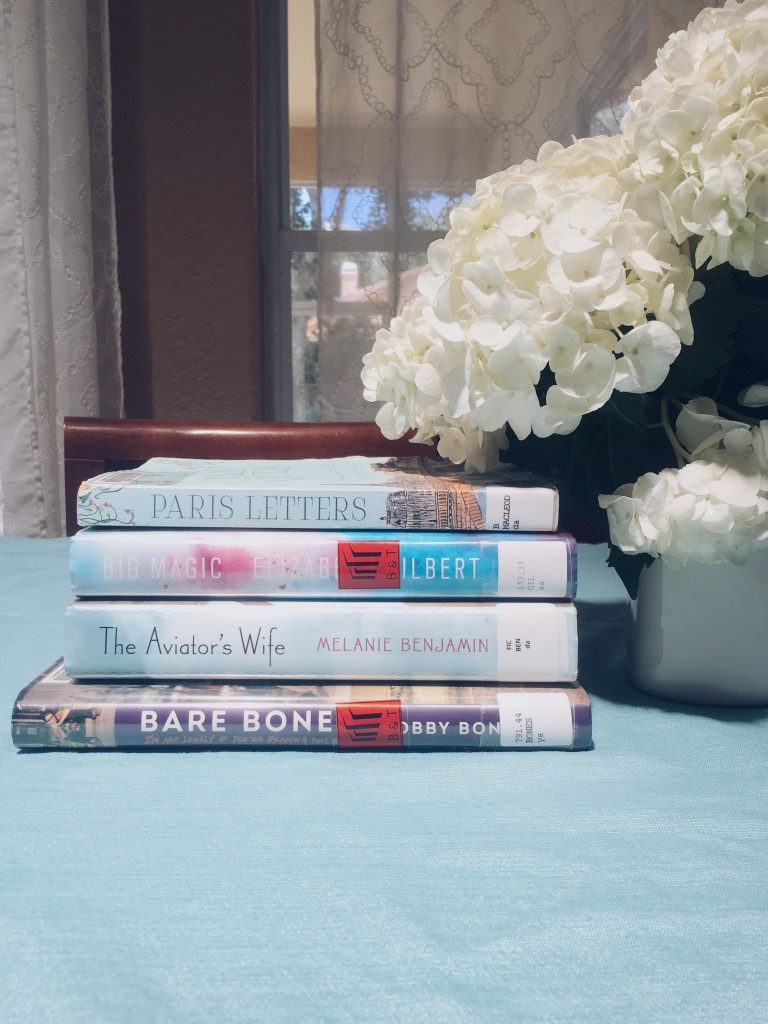 I am all about the library these days. We have the cutest farmers market every Friday and Em I get a donut then hit up the library.
Also, if you don't have the app Good Reads, get it. You can keep track of books you've read and want to read, they give you suggestions based on what you've read too. It's nice because I don't always have an hour to just peruse the shelves in the library.
Back to books in August.
I'm actually finishing The Aviators Wife right now, and technically read a book I had on my September list. But since I'm ocd I'm reviewing that next month. So, while I finished four books, it's not the four in the picture.
Moving on.
Paris Letters by Janice Macleod
The whole book mirrored the beginning, middle, and end of Eat, Pray, Love. Which I'll learn later is totally ok (if you've read Big Magic you get it). I loved that the author took a while to prepare for her big trip, planning and saving. Not just up and going. The realistic approach. It's your typical American girl meets Parisian man love story, but I loved it anyways. Because in my mind you can never have enough of those. She paints the most beautiful letters which she started doing in Paris, obviously where the title comes from.
Would I recommend this book: yes. It was a quick and light read, it's a happily ever after ending about love and Paris. Can't go wrong.
Bare Bones: I'm not Lonely if You're Reading This by Bobby Bones
My little sister turned me onto the Bobby Bones Show (a radio show you need to start listening to if you don't already) a couple months ago and I heard him talk about the book he wrote. I put it on my list but didn't think I'd find it at the library anytime soon, but I obviously did. Whoop, whoop. His story is incredible. The classic raised with nothing and worked his way up to the top. With so much hard work. That's America y'all. He's really funny so I found myself laughing out loud a ton. I also finished the book in one day. Like less than 24 hours, done. It helped that I had heard a couple of these stories on his show, but it also made me appreciate it so much more.
Would I recommend this book: yes yes yes, why are you still reading this and not getting the book? Also. Start listening to his radio show. It's a "country music" radio show but I promise it's not all about country music. In fact I love it so much because it isn't all about country music.
Big Magic by Elizabeth Gilbert
THIS BOOK IS AMAZING. If you're a creative person…no, if you're a HUMAN, I need you to go get this book now. It's incredible. Her entire idea about how creative we all are is amazing. It's a book about honing in on what's already in you, the creativity we're all born with. She has the most amazing thoughts on creative ideas, in that they come to us and if we don't use them they leave and find someone else. Dang. She talks a lot about how creativity often get's put in this little box. If it's not taking pictures or writing or painting, it's not creativity. Which is so not the truth. Whatever makes your heart beat faster, gets you excited, that can be your creative outlet. I wanted to underline the whole book, but couldn't because it's a library book so I'm going to go buy it myself. If you put it down and don't and have the biggest urge to create something, than you've missed the whole point.
Would I recommend this book: YES.